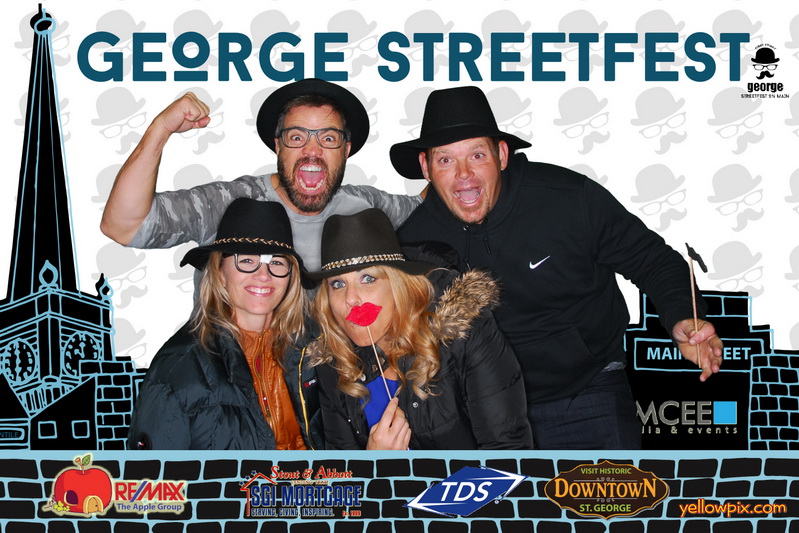 2015 George Streetfest November edition
Thanks to those at attended George Streetfest on Main November 4. We hope you enjoyed the festivities as much as we did and wanted to share some good news. If you haven't heard already, St. George City and St. George Area Conventions & Visitors Bureau have renewed their support to continue George Streetfest at Historic Downtown St. George in 2016. We are thrilled!
You can help us grow George Streetfest by posting your George Free Photo Booth by yellowpix.com picture  at https://www.facebook.com/GeorgeFirstFridayStreetfest/ (attached) to Facebook and Instagram using hashtags #georgestreetfest and #iamgeorge. Also, please like our Facebook page, "George Streetfest on Main – First Friday," https://www.facebook.com/GeorgeFirstFridayStreetfest/ to stay updated about future performers, contests and events coming to southern Utah's new first Friday event. You are welcome to share your fun pictures from the Streetfest to our page.
UPCOMING GEORGE STREETFEST THEMES:
December 4, George Streetfest presents Gingerbread Tour
New Year's Day, Jan 1, 2016, don't miss the George Masquerade on Main (steampunk welcome)
We appreciate our photo booth sponsors Remax Apple Group, SGI Mortgage and TDS Telecom for making the George FREE Photo Booth possible and for giving families and attendees the gift of remembering fun times at Historic Downtown St. George.
For more information, or to become a street vendor in 2016, email george@emceesquare.com or visit our web site www.georgestreetfest.com.
Sincerely,
George Event Team
george@emceesquare.com
https://www.facebook.com/GeorgeFirstFridayStreetfest/